Our research partnership explores LGBTIQ+ experiences of the family violence legal system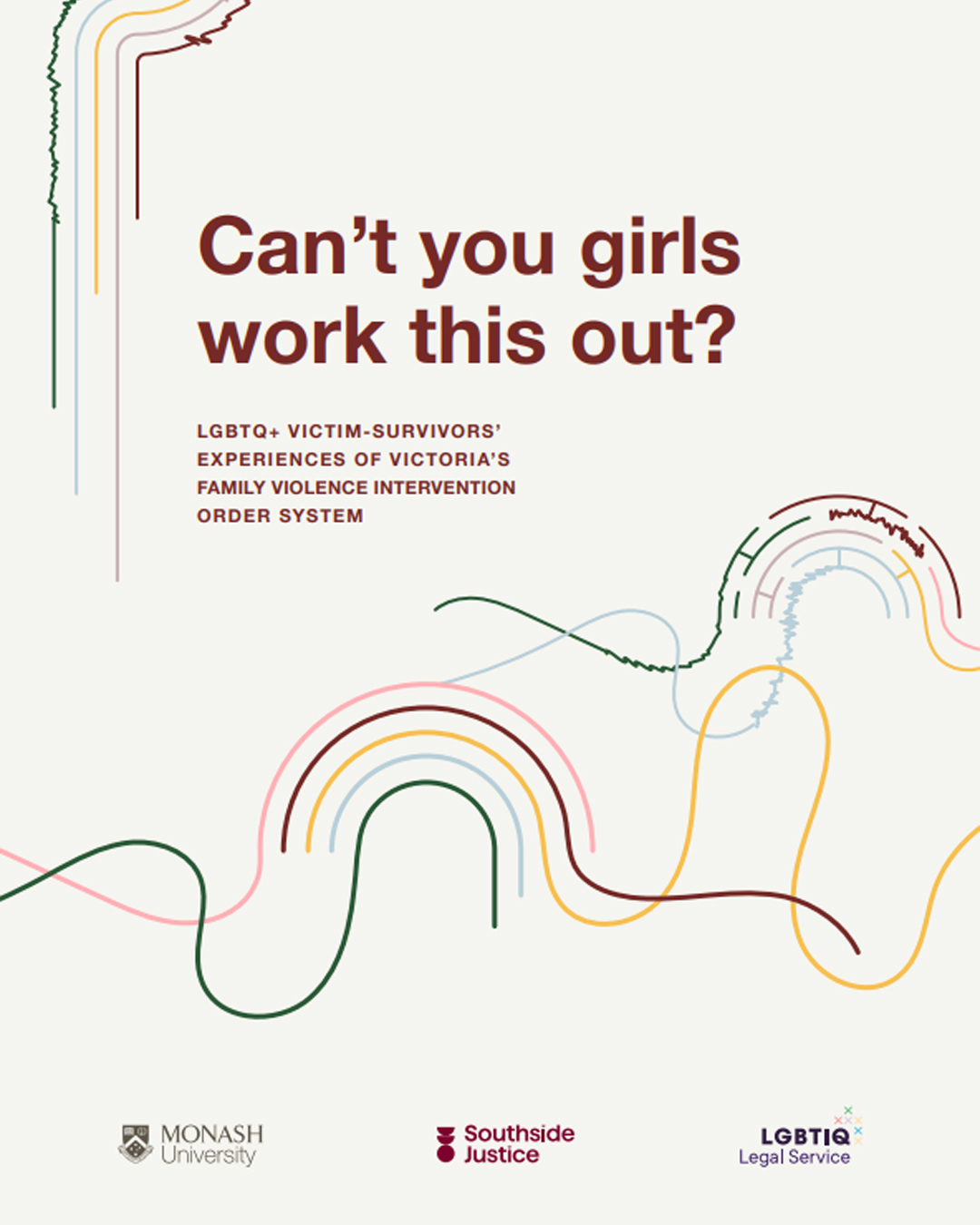 In 2020, the LGBTIQ Legal Program partnered with the Monash University's Gender and Family Violence Prevention Centre (Monash University) on a study into the experiences of LGBTIQ+ Victorians in the family violence legal system. The study draws upon data collected from 41 survey responses and 21 in-depth interviews of LGBTIQ victim-survivors across Victoria. In December 2022, Monash University launched the report, 'Can't you girls work this out?': LGBTQ+ victim-survivors' experiences of Victoria's family violence intervention order system.
The report provides unique insight into how LGBTIQ+ people engage with the legal system for protection from family violence and the impacts of systems abuse by perpetrators. It provides recommendations for both policy and practice initiatives to improve responses to LGBTIQ+ experiences of family violence in Victoria. Throughout the study the LGBTIQ Legal Program helped promote and recruit participants, which included contacting over 200 former clients, and providing expert advice on the subject matter.
Our partnership with Monash University highlighted the LGBTIQ+ Legal Programs' unique position and ability to contribute to the emerging evidence base of LGBTIQ+ people experiencing family violence and access to the legal system. Importantly, we would like to thank our LGBTIQ+ community members and former clients for sharing their experiences and acknowledge the devastating impact family violence continues to have within our communities.
Check out the report https://bridges.monash.edu/articles/report/_Can_t_you_girls_work_this_out_LGBTQ_victim-survivors_experiences_of_Victoria_s_family_violence_intervention_order_system/21530898